Getting Lexington SC Customers For Your Business: The Power Of Local
If you're looking for local Lexington customer traffic, the most important part of your search engine will be local SEO. "Local SEO" ensures your website is found under those "locally defined" searches. What is a "locally defined" search, you may ask? A locally or geographically defined search is a search that contains the city or area in the search. For example, if you search for "Nike Tennis Shoes," you will get a different result from searching for "Nike Tennis Shoes Lexington SC."
This "local search" that 85% of all consumers do before shopping for particular items.

So, the question becomes, how do you ensure that your website is effectively appearing on local Lexington SC searches?
Google My Biz (GMB) for Your Lexington Business
Google My Biz (GMB) is an incredibly powerful online directory for your business or organization. If you've ever Google a topic like "Restaurants Lexington SC, then you've likely seen the ever-popular "3 PACK" on Google.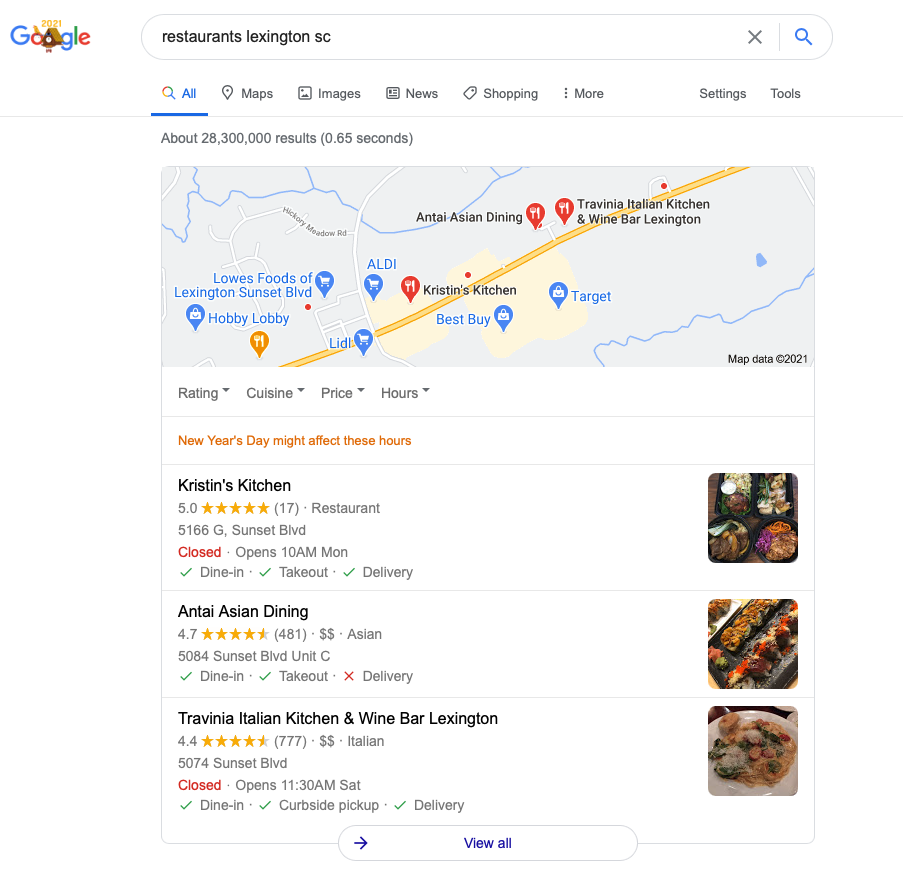 The 3-pack is found in local Google searches. If a local search returns a 3-pack, it will almost always appear at the top of the page, usually alongside a map. For businesses looking to reach more customers through Google Search, it makes sense to optimize for this prized piece of search engine real-estate. These search results are at the top of the Google Search results, and they stand out compared to the organic results. The 3 pack is often displayed on searches done from mobile devices and desktops.
How can I rank in the 3 pack?
Getting your website in the local 3 pack is not like ordinary SEO. For a start, listings in the 3-pack are based on Google My Business (GMB) listings. In the 3 pack, Google ranks businesses, not websites. This makes the process simpler, but how can you get your business listed here? The first thing you have to do is to claim or create your listing for every location of your business. This process can be accomplished by going to the Google My Business website and entering your information or hiring a marketing firm to do this for you.
Once you've established your listing, you want to appear in as many categories and searches as possible. Here are a few things you can do to improve your rankings:
Choose an appropriate category for your business.
Complete your profile with images and branding
Include a local phone number and address that is consistent with your website and all directories. This is also referred to as NAP (Name, Address, and Phone Number) and is called citations in SEO speak.
Link to your website
Include information on your listing like products and services
Take Few Moments To Find Your Local Google Rankings In Lexington SC